We approached the museum from Wilshire Blvd. and parked in what used to be the lot for the old May Company building. $5.00 please. In fact, LACMA has taken over the famous Art Deco building and has added more of its' collection - LACMA West.
Did I mention this is a big museum? Well, it is.
We walked into the grounds through a beautiful sculpture garden.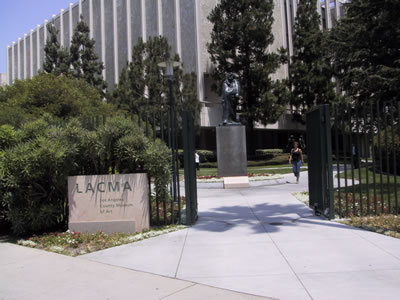 Again, probably a dozen sculptures, just out on display without much of a security force. More sculptures by Rodin, and one from Emille-Antoine Bourdelle entitled 'Monument to Rodin' [below]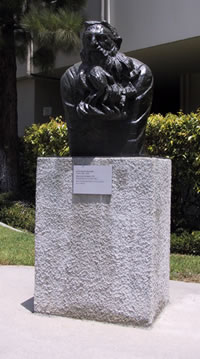 Dianne and I had a rather spirited discussion regarding bronze sculpture. And it boils down to some key questions, thoughts and ideas.
Now follow along class...
1. Do 'original' sculptures exist in clay? In other words, if Rodin created the original 'The Thinker' out of clay, does that clay version exist somewhere? And if so, is that also considered 'art'?
What about the finished bronze piece? Which one is an original? Or does it matter?
2. 'The Thinker' sits in front of the Norton Simon Museum. But it also appears at The National Gallery of Art in Washington D.C., The Rodin Museum in Paris, The Philadelphia Museum of Art, and Cleveland Museum of Art. According to MuseumSpot.com, over 21 statues have been made from Rodin's original mold of 'The Thinker.'
Upon closer inspection, Norton Simon lists their 'Thinker' as #11. Who knew? We sure didn't.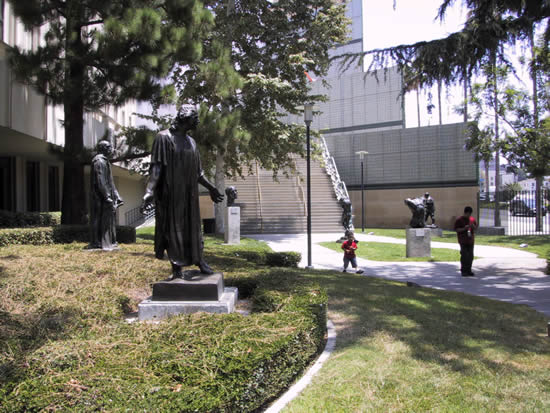 The ticket booths and information are situated in a large, open breezy central court. Tables and chairs are set out, and patrons who weren't inside the museum buildings were just enjoying the day. It was certainly the most active museum we've visited. It was also from this perspective that we could take in the sheer size of the place.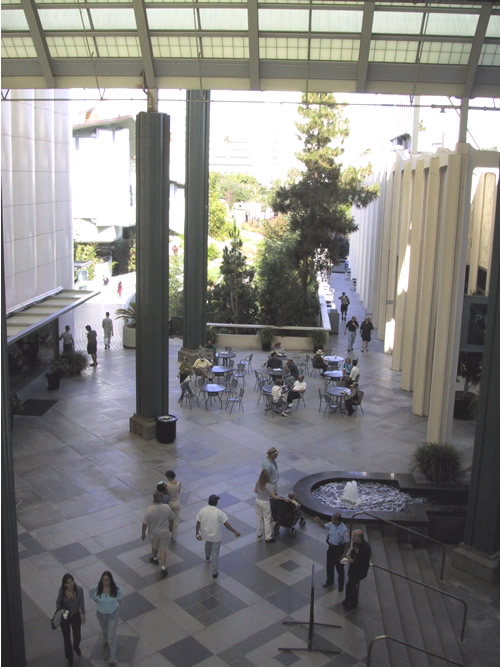 Tickets and General Admission
$7, adults
$5, seniors (62+) and students (18+) with ID
$1, children/younger students ages 6 to 17
Free, children under 6 years of age.
*The second Tuesday of each month is free to all.
So here's the layout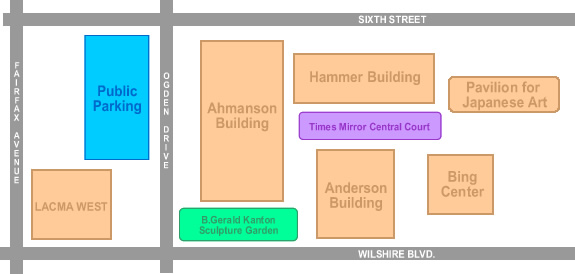 Anderson Building:
Plaza level -- Special exhibits: Modern and Contemporary Art
Second Level: Art since 1970 Third Level: Modern and Contemporary Art, 1900- 1970.
Hammer Building:
Plaza level - Special exhibits: Second Level: German Expressionist Prints and Drawings, Impressionism and post-impressionism, 19th Century European Art; plus, special exhibitions on Photography and Prints and Drawings.
Ahmanson Building:
Lower Level: Chinese and Korean Art Plaza Level: American Art, American Decorative Arts, 16-17th Century English Art - are you tired yet?
Pavilion for Japanese Art:
Japanese paintings, prints, sculptures, arts and textiles.
Bing Center:
Research library, auditorium, resource center and a theater

This place is big. And we knew we weren't going to try and see it all. The offerings in the Robert O. Anderson building - second and third floor - caught our attention.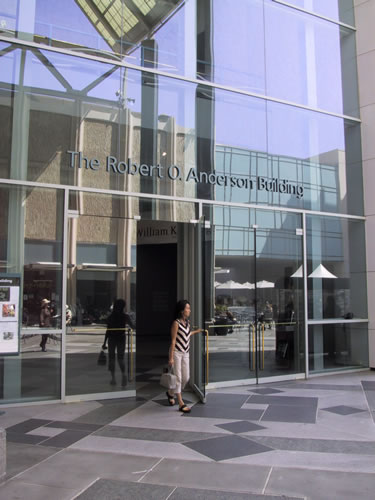 So, after a brief photo shoot....