Like the Norton Simon, LACMA has quite an extensive collection of art by some very well known artists. Pablo Picasso, Mark Rothko, Jackson Pollock, Marc Chagall, Piet Mondrian, Georgia O'Keefe, Wassily Kandinsky -- again, it 'reads' like a really fine Art History Book.

Jim and Dianne absorbing the culture from David Smith's Cuti XXIII [1964]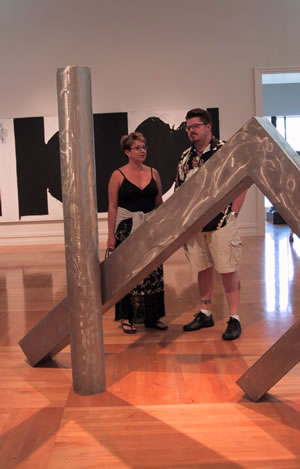 Frank Stella [Hiragla Variatia I - 1969]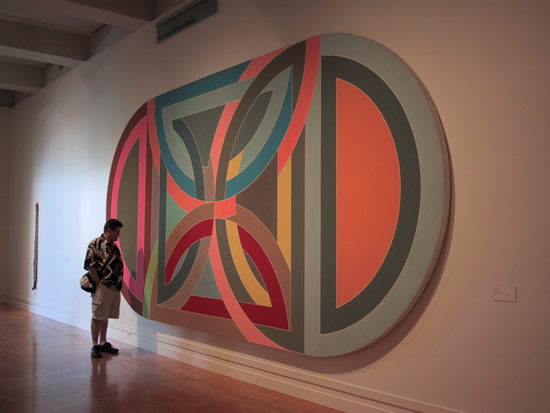 An interesting and innovative installation of art called 'The Beat Road' featured a section designed to look like a city street. Various works of art were on display here in various formats [out in the open, in a glass case] and then 'city' sound effects, props [including the park bench below] allow the art to be displayed in the midst of the urban jungle.

I'm not sure we really got it, but it certainly was interesting to see.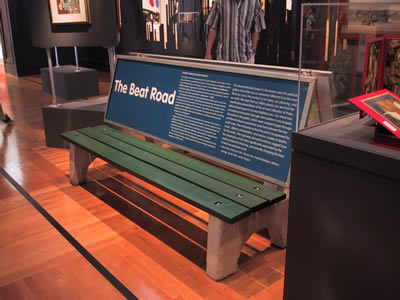 Here, Rene Magritte's famous '"Ceci n'est pas une pipe" picture is displayed in the city scape room...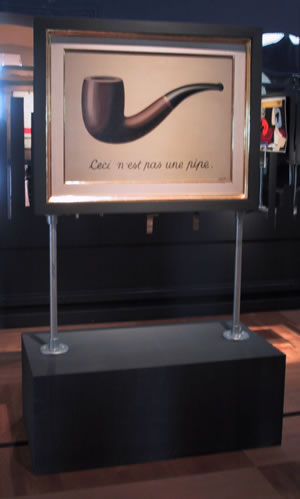 ...so that you can also see the backside of the actual picture. Notes and labels show where it has been over the years. It's hard to see but the red label reads MUSEUM OF MODERN ART, and another one reads SAN FRANCISCO MUSEUM OF MODERN ART. Sort of the museum equivalent of trunk stickers.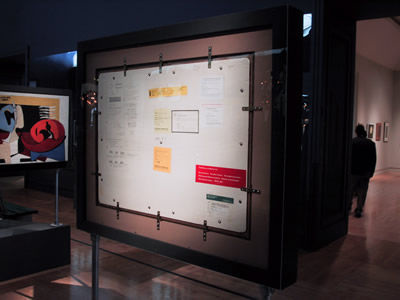 And the rest of this gallery [remember we're only in the Anderson Building] is just terrific.
We took a break to the museum cafe [very bright, clean and popular] for a beverage, and stopped in to the museum shop [probably among the weakest we've visited].